Seascapes 1
One man exhibition – Newcastle Arts Centre 2005
The large scale watercolour seascapes in this exhibition created a dramatic response from the public who where highly enthusiastic about the exhibition. The press were equally pleased with the work.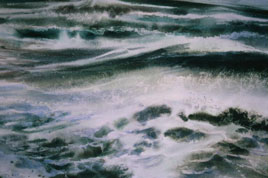 'Dynamic seascapes proving convincingly that watercolours can easily be as powerful
as oil.'
'Attacking the paper with the ferocity of a rabid beast' the North East based artist captures the raw, unforgiving power of the sea. Magnificent waves cascade into each other with palpable force, sending showers of foam in every direction. Of course such an epic subject deserves plenty of wall space, and, accordingly Skill's best works are also his biggest.'
'EllenMacArthur would probably think twice about getting into a boat if she saw these.'
– Quotes from a Review by Christopher Collett for the Metro –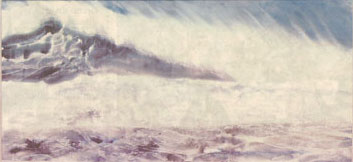 Jason said 'At eight feet by four, the main seascapes were a huge technical challenge working wet in wet at this scale. This was watercolour painting at its most exciting with some of the work completed in the time the water and paper took to dry !
Like the previous exhibition at the arts centre, my aim was to challenge the public's ideas about watercolour painting.
Watercolours are often seen as small scale and the preserve of mainly 'amateur' artists. I wanted people to see the potential of this wonderful medium to be as powerful oils or acrylics'.